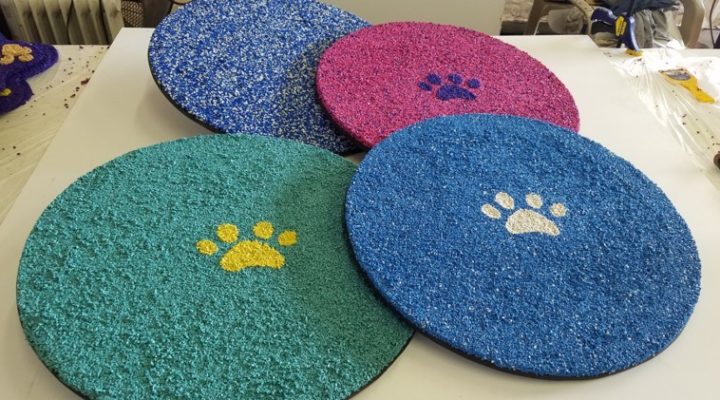 Wobble Boards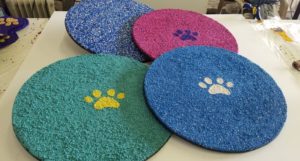 Wobble boards are a great training aid and confidence builder, great for young dogs. It builds inter core strength and hind leg strength 2 sizes 22″ and 30″
Price Per Board 30″ $159.00 and 22″ $99.00 plus shipping
---
Contact Trainer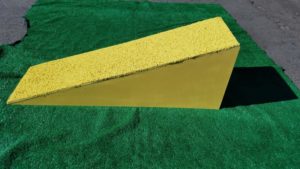 Our contact trainer teaches new dogs the 2 on or 4 on contact zone position as well as building confidence to go up inclines
This 42″longx 14″ tall and 12″ wide is the right angle for a teeter or dog walk inclines. Made out of PVC with aluminum composite top and rubber CONTACTACOAT Surfacing.
$129.00 plus shipping
---
Travel Plank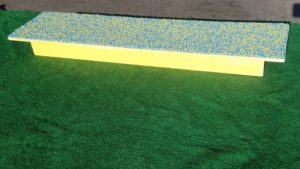 Our 4′ long 4″ tall and 12″ wide Travel Plank. These are made of PVC and have a CONTACTACOAT surface applied for traction, another training aid that can be taken with you to a event or park.
Can be placed at a incline for training or used between our wedges
$69.00 plus shipping
---
Jump Bar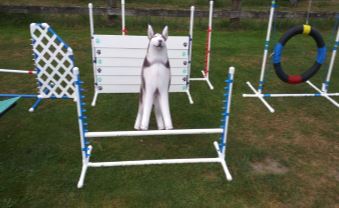 Mr. Inflatable has been injected with helium and clears it. The red and white and the blue and white jumps come with a 48″ jump bar and they are $39.00. The 6-panel jump is 1″ SCH40 tubing and 1/4″ PVC slats is $119.00. The wing jump tot he left has 18″ wings and 48″ jump bar.  $149.00.
---
Plastic Tire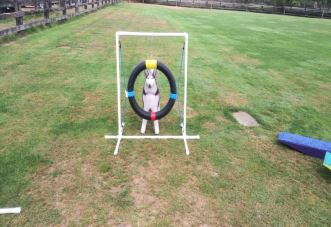 Mr. Inflatable is going for the gold thru our 24″ dia. Plastic tire,  it is adjustable from ground level to 24″. The frame is 1″ SCH 40 and 4′ tall. $119.00 plus shipping
---
Stackers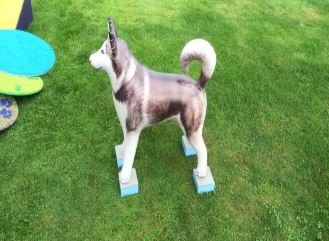 Mr. Inflatable is demoing our Stackers, helps with posing and proper hind quarter placement.  Made out of PVC with a sand non-skid top and a rubber non-skid bottom.  they are 3″ high and come in a set of 4.